With pretty little Churches overlooking the azure waters, 2000km of beautiful coast line, history, culture, warm climate, divine food and wine oh and only 2 hours from the UK, Sardinia makes a wonderful coastal location
Sardinia is the second largest island in the Mediterranean, with nearly 2000 km of unspoilt coast line and a law in place to protect it from further building. Sardinia also has a diverse mix of towns and villages seeped in history and full of character.
A Sardinian guide describes the villages and towns as
"real little gems set in the midst of an unspoilt nature. Every village preserves its own particular cultural, linguistic and gastronomic identity, thus giving rise to a myriad of shapes, colours and tastes which make a visit here such an unforgettable experience. Sardinian villages have been sung about by poets, painted by artists and written about by famous authors and are still today places to be discovered; the ideal destination for anyone who wishes to get right to the heart of Sardinian civilisation or simply visit the archaeological sites of its

territories

."
Church of Stella Maris
But I think you need to visit Sardinia to understand all the different faces of this island. Sardinia is not main stream "Mediterranean" but that is what makes it so special. Hosting your wedding in Sardinia could not be more delightful. With 2 international airports for your guests to chose from and the mix from old world charm within a rustic environment to VIP fishing villages offering a very sophisticated Italian Island experience, Sardinia is a perfect coastal location!

Photo by Helen Cawte
It may be possible depending on location and if the mayor of the town agrees, to host an outdoor civil wedding in Sardinia.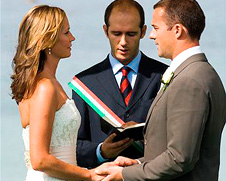 As for the weather in Sardinia, there is a very pleasant 6 months of summer from May to October and a mild winter, light sea breezes and hot dry days has made Sardinia a favourite with the Italians from the mainland and with the international rich and famous!
Please contact us for information about getting married in Sardinia.