Tiffany diamond engagement rings
If you are not lucky enough to have a beautiful ring that once belonged to your mother or grandmother which you know your bride to be will love, then it is quite a overwhelming task to get it right!
A while ago a friend asked me to help him pick the ring, while he had an idea in his mind he wanted, a) to make sure it was the right right for his future wife and b) that he could find 'this ring' he had in his minds eye!
Suddenly the feeling of responsibility weighted heavily on my shoulders and I began to steal looks at the lucky lady's hands and imagine what shape and size ring would look best on her finger. Like myself she has long thin fingers so I stupidly thought this would make it an easier mission!
Sapphire and Diamond Antique Engagement ring
Later after hours spent looking at rings nestled in trays, trying on ring after engagement ring and flicking through so so many images of engagement rings on the internet, I started to dream about engagement rings, would she like a round, a square, with coloured gems...
C
lassic round cut
Tiffany
diamond ring
Would I be letting my friend down by not guiding him correctly on this very special purchase... OOh the pressure and I was not even the one proposing!
Sapphire and diamond engagement ring
Big rock V little rock, wide band V thin band, yellow gold V platinum, solutier V cluster, ahhhh! My friend asked me one day what one I would chose...
Well that's easy! I would like the 11.89-carat D-color, Internally Flawless cushion cut diamond

engagement ring by Graff! :)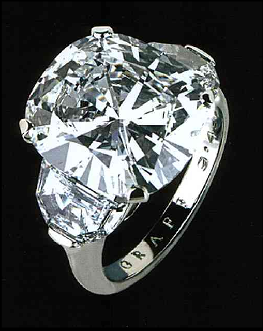 Flawless engagement ring by Graff!
Joking aside, in an ideal world I would like the ring to have been in his family, something that carries history and love. Although I have to admit I would be a little disappointed if the ring was ugly! I am cringing at admitting that, but I also have to look at it! However I would wear it because it was given in love...
Although if I had to choose I would choose this stunning blue cushion cut diamond engagement ring...
As for my friend he, I can't show you the ring he chose because in the end he had it designed for her AND SHE SAID YES!!!